Rafael Tesoro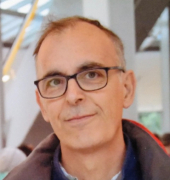 EMPRESA/ENTIDAD
Programme Officer - EU policies. European Commission.

REDES SOCIALES Y BLOG PROFESIONALES
Extended biography
Rafael Tesoro has a doctorate in mathematics from the Autonomous University of Madrid. He has extensive experience in digital transformation of several sectors, having worked at various companies such as IBM and Sainsel Sistemas Navales.
Since 2013, he has worked in the institutions of the European Union promoting cybersecurity in the Union. His work focuses mainly on managing cybersecurity programmes and projects co-funded by the EU (e.g., Horizon 2020, Horizon Europe, Digital Europe). He also contributes to implementing various policies that seek to build and reinforce European cybersecurity capabilities and technologies (e.g., the NIS directive). In particular, since 2019, he has supervised the EU's pilot projects to establish a European network of cybersecurity competencies.