In the last decade, access to information quickly and securely has become an essential rule that all companies have always tried to achieve in order to get the most out of their processes. Within this context, the use of computer networks where information is transmitted in real time has become a standard. To this end, industrial controllers and the network devices connecting them have been evolving to meet this purpose, to achieve this accessibility without having to sacrifice efficiency or security.
Mobile networks are a key element for the digital transformation of industrial environments, as they are capable of wirelessly and securely connecting the devices, machines and people involved in production processes. The evolution of mobile networks towards 5G opens up new possibilities for Industry 4.0, such as automation, robotics, automation, automation, automation, and the IoT and the Edge Computing, which already exist with communication systems based on wifi, Trusted Wireless, Bluetooth, Zigbee o WirelessHART.
How does 5G affect industrial environments?
In our article dedicated to 5G for the new connected industry, we already discussed the benefits that 5G networks bring to infrastructures where speed and accessibility of information are rewarded.
In recent years, several studies have been carried out showing the advances that this technology is capable of achieving thanks to a correct implementation in operating environments (OT). One of them explores the possibilities of creating 5G networks for the remote control of industries, an aspect applicable when performing monitoring tasks without being physically close to the assets or when real-time information of the situation in the plant is required, to the point of being able to analyze the process of an individual product in an updated way.
Different studies reflect aspects such as logistics, where flexibility and resilience are prized, adjectives that the 5G is capable of providing thanks to its malleability. The agri-food sector, which until a few years ago did not require energy and communications networks, has now been reinvented thanks to the broad connectivity of wireless networks, in which 5G will become an essential pillar.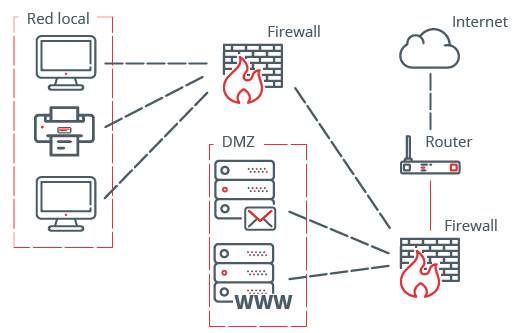 - Industry and 5G -
New 5G security implementations
5G networks provide powerful security features between the networks themselves and the customers accessing them. 5G architectures are the first mobile architectures designed to support multiple specific use cases, each with completely different requirements in terms of cybersecurity if necessary. A clear example is that 5G enables the use of a large number of Massive Internet of Thing (MIoT) applications, where we find, for example, traffic sensors, industrial line sensors, vehicle to infrastructure (V2I) services and other types of base sensors, both for smart cities and smart factories.
Another security advantage to be taken into account is the possibility of implementing a large number of security measures capable of stopping attacks or vulnerabilities, since thanks to the data transmission speed and the segmentation capacity it provides, the risks of suffering denial of service attacks (DDoS) on wireless networks, the hijacking of IoT devices or unauthorized remote access to private data, is considerably reduced.
5G use cases
Both LTE (Broadband Wireless Technology) and its predecessors include a variety of security mechanisms designed to protect networks, data, video and voice traffic. 5G networks not only leverage those mechanisms, but also the collective decades of experience of the mobile industry in attack analysis and prevention.
5G networks enable a wide range and diversity of use cases, as reflected in the following chart.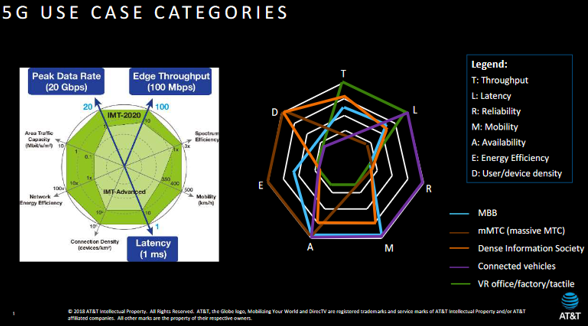 - 5G use cases; "Source"
These include mobile broadband service (MBB), virtual reality in factories and offices (VR), ultra-low latency for connected vehicles and Massive MTC.
Attack superficies on 5G connected IIoT Devices
In industrial environments, the number of IIoT devices has been growing exponentially in recent years and, as a consequence, the attack surface has also been increasing, as each device added to the network is a new potential attack vector.
5G networks provide cybercriminals with a very broad spectrum of possibilities when it comes to making attacks on IIoT devices, through these wireless networks. The large volume of traffic that an attacker can generate today can bring the entire network to a standstill in a matter of minutes, causing a denial of service to all devices connected to the 5G network.
Advice and conclusions
In conclusion, taking into account all the advantages that 5G networks offer and the new alternatives they present, it is difficult to imagine a future where industrial networks do not have this type of networks because all industrial environments will require constant data flows at high speed and with high reliability.
On the other hand, new innovations in security and functionality herald a possible era in which all devices can be interconnected via wireless networks, without fear of their being breached by protocols that reward efficiency.
It is also noteworthy that the increase in IoT and IIoT devices is causing an increase in the attack surface, so security implementations in these devices and wireless networks must have measures to minimize or prevent possible attacks.